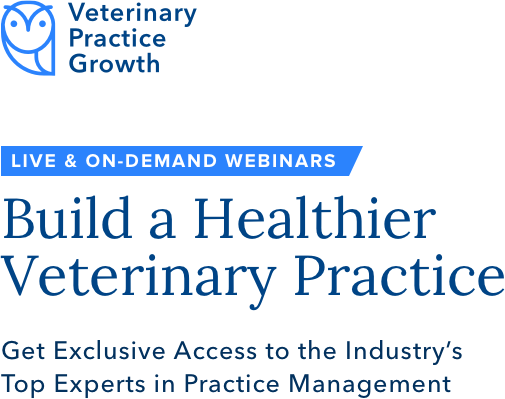 October 13 @ 1:30 PM Central
Compensation Trends for Veterinary Professionals
by Andrea Crabtree, BS, CVPM, SPHR, PHRca, CCFP, FFCP Veterinary Business Consultant & Owner of FurPaws Consulting; Debbie Hill, CVPM SPHR SHRM-SCP CCFP; Elizabeth Fritzler DVM, CVPM Practice Owner, Cascade Heights Veterinary Center in Seattle, WA; Monica Dixon Perry, CVPM Director of Veterinary Consulting Services
Approved for 1 hour CE from the North Dakota Board of Veterinary Medical Examiners
The veterinary profession, like most industries and business, are competing now more than ever to attract and retain talent. Historically, the veterinary profession operates behind the times, and our compensation model is no different. Generational expectations and the personal needs of the talent pool and of our current teams are changing rapidly. Let's evaluate if we are in the 21st century, and more so, look to the future and if we can pivot from our antiquated salary and benefits models to a more robust total compensation package. The panel will explore creating, implementing, and highlighting other non-monetary perks to draw in and retain top talent. We will consider what works, what doesn't, and what can we do differently in this rapidly changing market.
Discuss traditional methods of compensation for professionals and identify areas of concern with these models.
Discuss the pros and cons of alternative methods such as the ProSal model, other bonus structures based on merit or revenue, and benefits, as well as other outside-of-the-box ideas to consider.
Discuss the need to be competitive in today's market to attract and retain top talent.
Discuss non-monetary benefits that hold value such as mentorship and flexible schedules to compete with a changing market and changing employee needs/expectations.
The goal is to have attendees revisit current employee and potential candidate needs. We want them to leave with creative ideas of wages, different benefits options, and non-monetary perks that may be of interest to employees and candidates that also balance client service and the success of the business.
Andrea Crabtree, BS, CVPM, PHR, SPHR, PHRca, CCFP, FFCP
Andrea is a SoCal native. She graduated from Cal Poly Pomona with a BS in Animal Health Science in 2004. She became a Certified Veterinary Practice Manager in 2011, received her California Professional in Human Resources in 2017, and accomplished her Certification as a Senior Professional in Human Resources in 2019. She became a Certified Compassion Fatigue Professional in 2019 and she is Fear Free Certified. In January of 2016, Andrea received the SoCal VMA Paraprofessional of the Year Award. She is currently the owner of FurPaws Consulting in CA where she works with business owners and managers to develop their leadership teams as well as to expand and develop their business.
Andrea also stays busy with public speaking at a variety of veterinary events and national conferences, doing what she loves – teaching, coaching, and training. She has also published in Veterinary Team Brief, IDEXX's Practice Life, Veterinary Practice News, and SD VMA. Her passion for veterinary medicine also keeps her busy with SoCal VMA events and SoCal Veterinary Manager's Network she co-founded. She is a member of SoCal VMA, VHMA, and VetPartners.
Andrea lives in Orange with her husband, Andrew, son John, two cats, dog, and her horse. She loves professional football and the Green Bay Packers have been her favorite team since she was four years old. She is active and loves to hike, read, and horseback ride.
Debbie Hill, CVPM SPHR CCFP
Debbie Hill, CVPM SPHR CCFP enjoys all things management and speaks nationally to manager groups and conferences around the country. She is an active hospital administrator for a veterinarian with 3 hospitals, has taught management courses for Patterson Management University since 2008 and is currently presenting the VHMA M2M podcast.
In addition, Debbie attends multiple veterinary conferences annually to stay current. As her hospitals grew, she achieved her Certified Veterinary Hospital Manager in 2005. She is certified as a Senior Professional in Human Resource (SPHR and SHRM-SCP) and Certified Compassion Fatigue Professional and uses these certifications to help manage her own teams. Debbie served on the Veterinary Hospital Manager Association's Board of Directors, the CVPM Board of Directors and is a member of VetPartners.
Realizing she has been privileged with a wealth of exposure to management experience and education, Debbie has a strong desire to share with others who strive to maintain healthy teams, quality patient care and client service with solid business systems.
Elizabeth Fritzler DVM, CVPM
Dr. Fritzler graduated from Washington State University with her DVM degree in 1991. In 2008, she became a Certified Veterinary Practice Manager (CVPM). Dr. Fritzler served for over ten years on the board of directors for the Veterinary Hospital Managers Association. She is currently the VHMA representative on the AVMA's Practice Education Team and is a member of the Dean's Leadership Council for the Washington State University's College of Veterinary Medicine. Dr. Fritzler has a special interest in practice finance, budgeting, and ethics and has spoken on these topics at local, state, and national practice management conferences.
In 1999, she and her husband purchased Lien Animal Clinic in Seattle, Washington. For the next 20 years, she served as the Hospital Administrator and CFO while continuing to practice medicine part-time. During that time the practice grew from 2 ½ doctors to 9 doctors, built a new facility, and greatly expanded the staff and services offered. In 2018, the practice was sold to a corporate consolidator. In 2016, Dr. Fritzler and her husband partnered with an associate from Lien to start Cascade Heights Veterinary Center. In five years, the practice has grown from a startup to a 4 DVM practice. Dr. Fritzler is responsible for much of the practice management at Cascade and occasionally fills in as a relief doctor.
Dr. Fritzler and her husband have three children, all of whom have worked in the practices with them at some point. Their oldest son graduated from the College of Veterinary Medicine at WSU in 2019 and practices at Cascade. In her spare time, Dr. Fritzler enjoy reading, gardening, spending time with her horses, and traveling with her family.
Monica Dixon Perry, CVPM
Monica has been involved in the field of veterinary medicine for more than 35 years. She earned her bachelor's degree in biology from the University of North Carolina at Chapel Hill. Monica has been a Certified Veterinary Practice Manager (CVPM) for more than 20 years and remains a strong advocate for other veterinary practice managers to pursue this designation.
For over a decade, Monica managed a successful full-service, small animal eastern and western medicine veterinary practice in Raleigh, NC. As hospital administrator with Bowman Animal Hospital & Cat Clinic, Inc., she managed every aspect of the seven-day-a-week, nine-doctor hospital's operations. For 15 years, Monica was a consultant/partner with VMC, Inc. where she presented a seminar called Principles of Veterinary Practice Management throughout the United States and Canada. She has lectured at numerous national veterinary conferences and veterinary schools in the United States. As a consultant, Monica enjoyed lecturing and working with practices that participated in VMC's on-site consultation services. Monica was also a part- time university lecturer at North Carolina State University in the Department of Agricultural and Resource Economics where she taught Veterinary Practice Management on the undergraduate level. Monica joined Mission Veterinary Partners at the beginning of the global COVID-19 pandemic as VP of Strategic Partnerships and later held the position of Director of Practice Management. In her current position, she is Director of Veterinary Consultation Services at Burzenski & Co. and thrilled to return to her passion of working with premier practices throughout the US.
Monica is an active member of the Veterinary Hospital Managers Association, VetPartners, Youth Director at her church and sits on the board of Casa Esperanza Montessori Charter School in Raleigh, NC. Monica is the 2022 Practice Management Speaker of the Year at the VMX Veterinary Meeting and Expo.
Monica will let you know that her two primary purposes in life are working with veterinary practices and their teams and being the best possible wife and mom. She shares her Raleigh, NC, home with her supportive and loving husband and their daughter.
November 10 @ 1:30 PM Central
Perspectives on Veterinary Practice Consolidation
byJohn Volk, Senior Consultant, Brakke Consulting
Approved for 1 hour CE by the North Dakota Board of Veterinary Medical Examiners
Overview of the current and potential future role of corporate ownership of companion animal veterinary practices in the US.
Number of practices owned by consolidators
Attractiveness of veterinary practices to investors
Trends in practice acquisitions and values
Impact of corporate ownership on practice management
Participants will emerge from this session with a deeper understanding of the state of corporate ownership of veterinary practices, and the likely impact on the profession.
John Volk, Senior Consultant, Brakke Consulting
John Volk is senior consultant with Brakke Consulting, the largest consulting firm serving the global animal health, veterinary and pet care markets. He is highly knowledgeable about companion animal, equine and food animal practice.
John is principal author of five landmark studies of the veterinary profession: Brakke Study of Financial and Economic Behaviors of Veterinarians (1998), AVMA-Pfizer Business Practices Study (2005), Bayer Veterinary Care Usage Study (2011-13), VPI-Veterinary Economics Financial Health Study (2014), and Merck Animal Health Veterinary Wellbeing Study (2018, 2020, 2022).
He has authored several articles for veterinary journals, and is highly sought after as a speaker at veterinary conferences, especially on topics such as practice consolidation, preventive care plans and pet insurance.
A widely respected executive, John has been recognized numerous times for his professional achievements. In 2019 VetPartners, the association of veterinary practice management consultants, presented its Pioneer Professional Award to John for his "vision and contributions to the business of veterinary medicine."
Prior to joining Brakke in 1994, John was president of The John Volk Company, one of the leading advertising and public relations firms in agriculture and animal health; he sold that firm in 1992.
John is a graduate of the University of Illinois where he earned a BS in agricultural communications and did graduate work in marketing. He also served on the faculty of the University of Illinois College of Veterinary Medicine as communications director.
John currently serves on advisory councils for the University of Illinois College of Agricultural, Consumer and Environmental Sciences, and for the Chicago High School for Agricultural Sciences, a unique public school for inner city students.